Yoshitomo Nara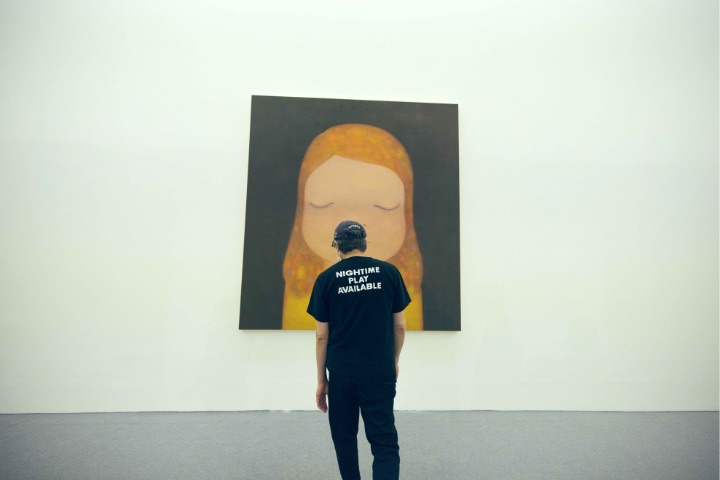 Born 1959 in Aomori prefecture. In 1987, completed master's degree program at Aichi University of the Arts. Moved to Germany in 1988 and enrolled at Kunstakademie Düsseldorf. After residing in Cologne, repatriated to Japan in 2000. Has exhibited in various places in Europe, the United States, Japan, and Asia since the late 1990s. Known for powerful portraits with eyes that gaze back at the viewer; drawing works produced daily; three-dimensional works in wood, FRP, ceramic, and bronze; and installations of little houses.
The figures in Nara's paintings are the result of the artist facing the deepest part of his soul; with color and composition based in painting theory, repeatedly layering and erasing color from the canvas, so that what remains in the end is only the most earnest part that could not be pared away. In contrast, his drawings are distanced from theory. Using materials with which he feels a familiarity, such as torn-off note paper or used envelopes, he bares his emotions and thoughts. In his three-dimensional works, for which he has varied his media over the years, Nara gives familiar items new life through a meditative dialogue with the materials. His photography has begun to have fully-fledged presentations in recent years. For these photographic works, he discovers raw beauty in everyday landscapes and moments from his work or travels that could easily be overlooked, and records them as something precious.
Nara's works contain everything that he encompasses. Memories etched into the depths of his soul; and the music, paintings, literature he encountered organically by following his curiosity, that inspired his spirit and sensibilities — these are all accumulated in countless layers. For example, he has been greatly influenced by the music he began listening to at 9 years old. Most of it was in a foreign language, but young Nara used his imagination to overcome the language barrier. He recreated the landscape of the music within himself using the record jackets, and sought to understand the piece as if he himself lived in that world.
Nara creates his works directly and freely, bound by nothing. These works transcend barriers of language, cultural backgrounds, and eras; they are beloved by many people. The artist confronts the true essence of people and things, and is invariably honest; resulting in works that are like mirrors that reflect the viewers' hearts back to them. In recent years, he has actively sent out his message on Twitter and Instagram, and regardless of where he may be in the world, he is connected with his friends in real time. And Nara is a traveler, in the truest sense of the word. At times he sets out on a voyage seeking his own roots. At other times, feeling a strong attraction to the spark of cultures that have persisted through the trials and tribulations of history, he visits and explores their lands. Treasuring the human relationships he has built through these encounters, he visits all kinds of places without being confined to the paradigm of art; like a traveling bard, he creates and presents his work for friends across the world.
Resume
1959

Born in Hirosaki, Japan
As of 2022

Currently, lives and works in Japan.
Education
1993

Meister Schüler, Kunstakademie Düsseldorf, Germany.
1987

MFA, Aichi University of the Arts Graduate School, Japan.
1985

BFA, Aichi University of the Arts, Japan.
Teaching Experience
2006

Guest Professor, Musashino Art University, Tokyo, Japan.
2003

Guest Professor, École nationale supérieure des beaux-arts (ENSBA), Paris, France.
1999

Guest Professor, University of California, Los Angeles, USA.
Awards and Grants
2021

amfAR Award of Excellence for Artistic Contributions to the Fight Against AIDS
2017

Aichi Prefectural Art and Culture Encouragement Prize Culture Award
2016

2016 Asia Arts Awards
2014

The 67th Too Award
2013

The 63rd The Minister of Education, Culture, Sports, Science and Technology's Art Encouragement Prize (Fine Arts)
2010

Awarded by International Center of Catholic Charities Community Services (formerly known as The International Center ) in New York
1995

Nagoya City Art Award, Encouragement Award